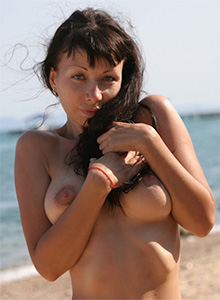 My name is Lada… I am mature woman but I feel young. Sometimes I am very calm and shy but there are times when I get naughty. I love sex very much and I guess you could call me a naughty MILF. Yes, I like to be naughty. I like wearing see-through clothes or a short skirt without underwear. Sometimes I take my clothes off in public place and get pleasure from the fact that others are shocked by this. At such moments I'm very embarrassed but I'm getting a lot of adrenaline and that excites me. I have pics and videos about me when I was very naughty and I'm going to keep doing it.
Some samples of my video you can see in this blog. If you want to get all of my pictures and full videos in high quality click here to visit site for my fans. and join me.
Kisses, Naughty Lada.